It comes to no surprise to you, I'm sure, that I have a bird feeder out my window. A BIRD feeder. You know, for the birds.

Now, this squirrel is NOT a bird. No matter what he thinks. But he sits at the base of the bird feeder and eats. He used to eat IN the feeder until we got a squirrel proof feeder. And moved it 3 times so he couldn't jump to the feeder and knock all the seed out so the poor little birds got no food.

And though this deer is very pretty, he's not a bird either. Bird feeder BIRD FEEDER.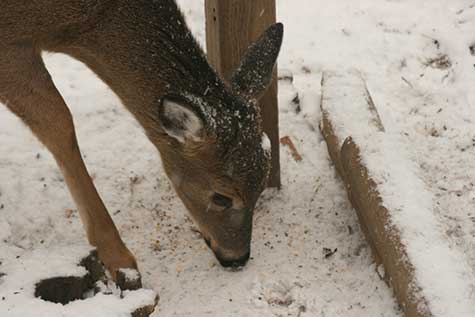 I exhaust myself daily trying to explain to all these animals that I have a Bird Feeder. For, you know, the birds. Okay, I guess you could call these turkeys birds. But they weren't what I had in mind.

Not to mention the little rascals are destructive. They knocked down the thistle feeder. I was not amused. Look at him. Trying to act all innocent. "Who me??" (he'll probably blame it on his little brother. That's what boys do.) As if I can't see him. He's lucky Thanksgiving is so many months away.

It really is a bird feeder. See? I keep trying to convince all the other animals…

Similar Posts: