In case you missed it in the comments from yesterday, over at the WeRLivingFree Blog, Free From It All has posted a pic of her office. Oh. My. Gosh. Go check it out. I am not now, or ever will be that organized. Though I can see how totally peaceful it would be to be surrounded by all the non-cluttered space.
This is my oldest son's desk. :shock: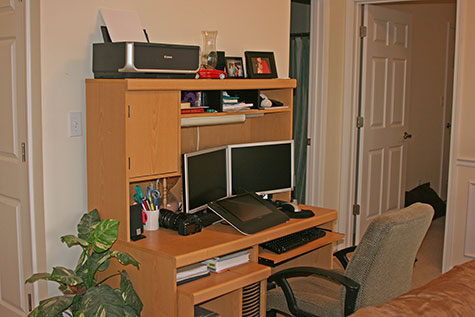 He SO did not learn how to do this from me!! It's not something genetic because you've seen my best attempt at cleaning my desk. Why does his desk, in some weird way, make me feel like a failure as a mom… You know, like maybe I'm not living up to my children's expectations??? Has he always secretly longed for a mother who was organized and had her act together?? Does he wish my house was as organized as his apartment? Does he hate me because I made him eat his broccoli when he was little??? Oh, sorry, I got carried away for a sec.
If you look closely, though, to the left of his monitors, you'll see his camera out on his desk. THAT"S MY BOY!!

Similar Posts: