I give you summer weather. Green grass. Blooming flowers. Mountains. Blue skies. And a fabulous lack of snow or ice. I give you Palm Desert, California. Behold and enjoy.


I don't know what it is, but I like it. It's like a climbing hedge flower.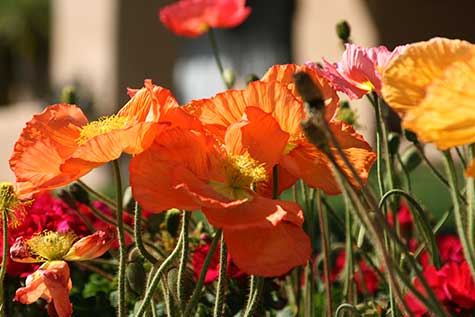 These are so bright, they almost hurt your eyes to look at them!
I'm out visiting my parents for a week. Gotta love parents who go some place warm for the winter. We left in a snow storm yesterday–along with delays for de-icing the plane. Then landed in this gorgeous wonderland. Well, someone has to do. Might as well be me.
SuperGuy keeps asking when he gets a turn at the camera…"when I'm finished with it, dear."
Now, I wish people were not so greedy with their wireless out here. It's hard to steal borrow it when they do stuff like encrypt their wireless connection
I keep losing the connection when the wind picks up too. I wander around the house trying to find the best spot. So as long as I keep finding a connection, I'll be back with more pics tomorrow. Keep posting your winter pics if you want…I'll just look and them and smile
And if I had Country Girl's macro lens, I'd be so much happier with all these colorful flowers!

Similar Posts: