They paint their nails…


To match the flowers…
Who knew???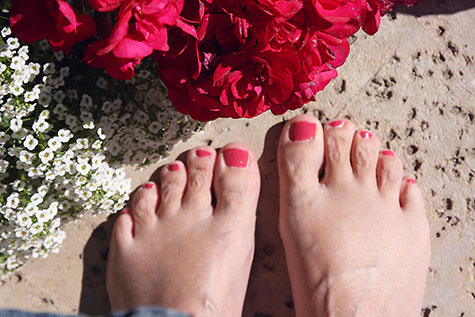 Pretty in Pink-or the Day of the Pink Flowers
I don't know why the colors of the flowers out here seem more vivid! As a total aside, my sister once told me that I'm not a pink person. I've been obsessed with pink ever since. I wear pink tshirts. Pink shoes. Pink socks. Pink everything.
SuperGuy asked to borrow the camera again. But I was too busy taking all these pics of the pretty pink flowers. He seems like he's getting a bit annoyed with me. I mean, the camera was an anniversary present we bought for each other this past year. I should let him use my our camera sometime, shouldn't I?
But all these flowers call my name. SuperGuy is patient. I'm sure he can wait for his turn.

I can't even imagine living in a place like this. Where the views take your breath away. The flowers scream with color. The sky is so blue it looks like it's been photoshopped. The grass is that perfect green they call Grass Green in a box of crayola crayons. I'm going to just pretend this is my real life. I'm going to ignore the taunting of the return plane tickets. They must not really be for me.
Don't forget to send me the link to your photo of the month for February!

Similar Posts: