So we headed out on our road trip. Pouring down rain. You know the kind, where you can hardly see through the windshield.

SuperGuy drove, of course. Not that I'm a bad driver, but it would have driven him insane to be out of control with me driving in the horrible rain. It might have driven me insane for him to sit in the passenger seat and "instruct" me. :wink:
Besides, the view was kind of nice…
Finally, about an hour and a half into the trip, the storm started to break up. Don't you love those clouds right at the horizen?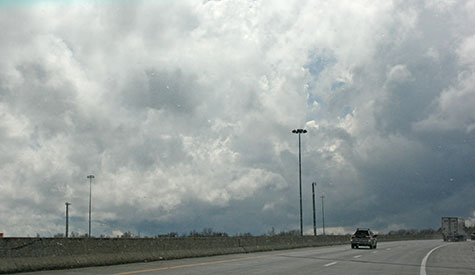 We had fabulous cloudy sky views then. I took a ton of pics. Unfortunately, through the window, with the car going, so not so many turned out. We stopped at a couple of Antique Malls along the way. We love to browse through them. Found a silver plated angel candle holder. I'll have to get her cleaned up and post a pic. I was looking for tea cups, as always, to add to my collection, but didn't find any I loved. I'm also looking for an antique tea cart in mahogany or cherry for my dining room. All we found were modern reproductions. Ah well, half the fun is in the hunt.
I'll leave you with a typical site we had: Meramec Caverns signs painted on the roofs of old barns.
So we arrived safely and had an enjoyable trip over. We'll see if the predictions of snow showers for the trip home hold true
Similar Posts: