Mama's got a brand new…toy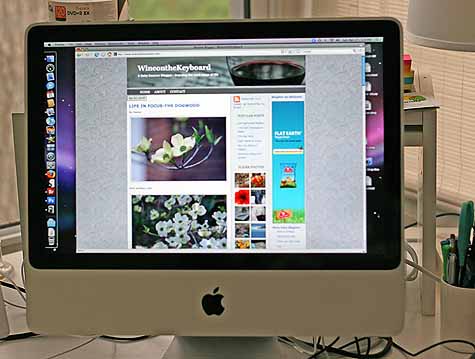 Now, don't get me wrong. I love my macbook. But it has a 13 inch screen and no separate graphics card and it was just puffing along trying to keep up with photoshop. Photoshop makes the laptop run so hot it burns my legs. Not to mention, depending on how you tilt the screen your pictures look lighter or darker. Very hard to figure out how to edit them for the web. So I finally decided it was time to grow up and buy a Mac desktop. I got this beautiful iMac. 20″. Isn't she pretty?
Then I hooked an old monitor up to it. See? Dual monitors.
I'm in serious love here. Well, the old monitor's colors are kind of off, but at least I can use it for extra space. Especially great for browsing through pictures in Bridge. Or keeping my email open while I'm working. My bad.
I feel like….such a grown up!
I had to remind SuperGuy that he always says it pays to have the right tool for the job. (in which he justifies an ever growing collection of power tools…). Anyway, he didn't argue with me. It pays to have the discussion in with him while standing in the garage surrounded by all his woodworking equipment. :wink:
So my MacBook will travel with me. I'll use it for my writing. Checking email. But I'm all about the power in this new iMac baby! I spent the weekend transfering files and figuring out Leopard (my macbook is Tiger). Weird how Apple chooses cats for names of their operating system.
OH! And now I have to name her… Haven't picked a name out yet. The Geeky One named the PC he built before college, Betsy. I made him a I Love Betsy tshirt that he still wears all the time. His old laptop (before he became a Mac convert) was a Toshiba. So he named her Sheeba. I usually called my macbook, Mackie. But now, help me name this lovely, sleek iMac! Do you name your computers? Got any name suggestions for my beauty?
Similar Posts: