This fantasic swiss cheese fondue is a regular on our dinner menu. We have it for the main meal. With a side of wine. :wink:
Swiss Cheese Fondue:
1/4 lb Emmenthal Cheese (also spelled Emmental cheese, but don't get me started…)
1/4 lb Swiss Gruyere
1 lb–give or take–any other Swiss Cheese…I prefer Baby Swiss
2 cloves garlic
juice from 1/2 lemon
1/4 c Kirschwasser (cherry brandy)
1/4 c white wine (don't forget to taste this ingredient as you're making the fondue!!)
sprinkle of nutmeg
1/4 c flour–give or take
Okay, so this worked out well. I told SuperGuy that he had to cook, and I was in charge of the picture taking. You know, a group effort.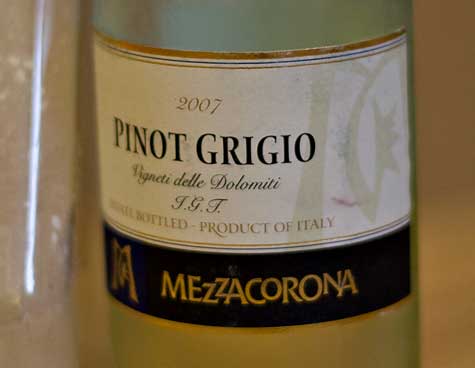 I helped a lot with this ingredient. You know, tasting and sampling…
Pour in about 1/4 c kirschwasser…Cherry Brandy
Add about 1/4 c white wine. Pino Grigio is preferred by the finer chefs. :wink:
Smash the garlic with a knife. SuperGuy says this makes them easier to peel off that outer layer. Use your favorite knife.
SuperGuy insists I tell you to cut off the green tip end of the garlic. It can give a bitter taste. Who knew there were so many rules about chopping garlic?? I just, um, chop it… Anyway, add the garlic to the fondue pot.
Add the juice from 1/2 a lemon. (of course, then you have the problem of what DO you do with the juice from the other 1/2 of the lemon. But these quandries of the universe are more than we can really go into today.) See the lemon juicer? SuperGuy has a gadget for everything he does in the kitchen.
Turn on the fondue to medium and heat the liquid to just barely boiling.
Here you see the cheese. About 1/4 lb ementhal and 1/4 lb swiss gruyere. About 1 lb of any other swiss. Baby Swiss is best. Trust me.
Grate the cheese.
Toss the cheese in about 1/4 c flour. Hey, wait!!! Where the heck is his wedding ring??? Hey!! Be right back…
Okay, okay, he swears he took it off when he was staining a table he's refinishing for me. All is forgiven. I'll go retrieve the ring for him though…
Slowly add the cheese when the liquid gets to just boiling. You might want to turn down the heat just a bit. Sprinkle in some nutmeg. Just a bit.
Serve with cubed bread and cubed apples. Or anything else you have around. Like veggies.
We serve this as our main course. Yummy. Makes for a nice leisurely dinner of conversation and dipping into the fondue. Not to mention the competition to see who drops the fewest pieces into the fondue…
Doesn't that look delicious?? We make it so often, we keep the cheeses and kirschwasser on hand. Well, and we never seem to have a problem coming up with the Pino Grigio either… A perfect dinner for two. If you have any left over, it's really good heated over an open faced sandwich. Enjoy!
Similar Posts: