So we got to San Francisco a day before the Blogher Conference started. So, of course, we decided to do the touristy thing.
We rode the cable cars. As an aside, all you people who said the cable car lines aren't bad and they move quickly? Well, here in the midwest, we think 10 minutes waiting in line is too long for anything… Let's just say almost an hour in the wind and cold is not "trust me, the line moves quickly." Not to mention they ran out of passes at the ticket booth and closed up to go get some more…so we had to wait for that too.
Top of Lombard Street…nice, but I really need to get to the bottom and shoot up the street!
For the record, I'm not an ugly tourist…but I've seen more efficiency at my local Department of Motor Vehicles than at the cable car turn arounds. So, you say don't catch the cable cars at the turn arounds. Nice hint. But they weren't stopping to pick up people because the cars were so full. Not to say the cable cars weren't fun and had great views. They were, and they did! Just saying…we have a different definition of long lines in the midwest than San Francisco people have.
So we went to Fisherman's Wharf so SuperGuy could get real live sea food. ('cause he was so upset about losing the Carmel Competion Photo Contest.

) Not so much of that in the midwest, I'll give you Californians that! Here was our view out the dining room window. Truly amazing. SuperGuy picked a great place to eat.

Alcatraz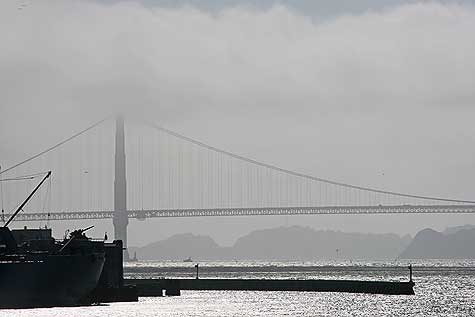 Golden Gate Bridge. So you Californians have the midwest beat, hands down, on sea food, gorgeous views, and no smoking inside. We really do outdo you on waiting in lines though… Oh, and you WAY have us beat on sourdough bread. We should be embarrassed to call the bread we serve in the midwest sour dough!
As an aside…I was well prepared for the C-O-L-D weather…tshirt, sweater, jacket. I still froze my butt off. (which, I guess, if you're dieting is a good thing.
) I've beeen warmer in the dead of winter in the midwest, than the summer in San Francisco!
But your views are wonderful. The hill streets and architecture are just lovely. The clanging of the cable cars is quaint. The people are nice. The lines at the Apple Store waiting for the new 3G iphone are long, but at least they still had some! (no, I didn't get one, but I do lust after one, does that count?)
So now I did this whole post without even talking about the conference. I'll do that tomorrow. I'm staying up way too late in this fake time zone…you do know the real time zone is Central Standard Time, right? :crazy2: (though, I'm not complaining, I did talk to a very tired blogger who flew in from London… :shock: )
It is amazing to talk to all these women who blog. The different kinds of blogs they do. The different stages of blogging they are at…from not started yet to blogging for years. So cool to immerse yourself in the whole online community. After I get home and settled in, I'm going to introduce you to some new cool blogs to check out.

Similar Posts: