So when you go on vacation do you buy souvenirs? Little trinkets to remind you of the trip? We do, we buy coffee mugs, and not just because I'm addicted to like coffee. :wink:
We bought two mugs from our recent San Francisco trip.
Here is a mug from a trip to Estes Park, Colorado.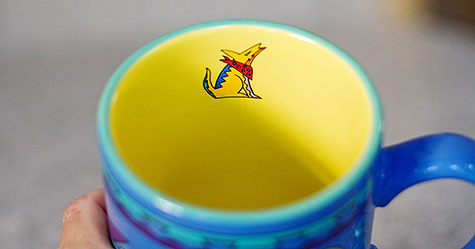 And look! It has a cute little coyote inside the mug. I love mugs that have a cute little pic inside of them.
I also receive mugs as presents. This one is from SuperGuy. I know, I know, but our family has a thing for cows. But that, my friends, is a post for another day.
Yes, yet another cute picture inside the mug. Love that. Though SuperGuy insists that left handed people are discriminated against with these pic-inside-the-mug mugs.

They are only printed on one side of the inside. So you only see them if you drink right handed. Oh, the injustice of it all!!
The Geeky One thought he was ever so clever when he bought me this coffee mug… I have NO IDEA what he's talking about!!
So I considered getting a Lake of the Ozarks mug while I'm here on vacation with all the boys. But really, let's be honest…do you think there is much chance at all of it getting home without being broken??
So, do you collect anything when you're on vacations? My brother-in-law collects shot glasses from places they visit. Now that would be handy given my new addiction like of martinis. How about you? T-shirts? Postcards? What is your vacation souvenir of choice?

Similar Posts: