I'm afraid I have a slight addiction these days.
Milk Glass. There, I've said it.
I cannot get enough of this stuff. It's like antique mall crack or something.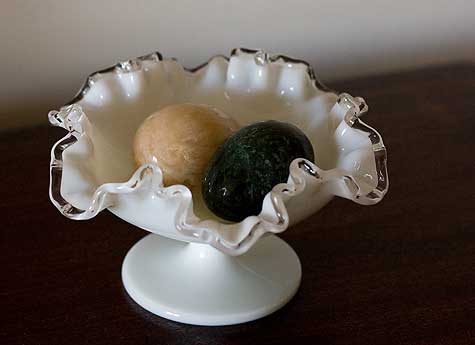 Like this adorable bowl I found to set on my gate legged table.

I then put in some rock eggs we have. Yes, I collect shiny, polished rock eggs too. I told SuperGuy I want a jasper egg to put in there with it's orangey-red colors. He wanted to know why I had already named the egg I wanted, "Jasper" and why did I hate the other eggs because I hadn't named them…
Our conversations are a bit strange at times…
But I digress….
I love the edge of this bowl. The ruffle, the clear edge. I think this milk glass is called Fenton Silver Crest. I must buy a book on identifying milk glass…
Want a closer look at the darling edge of this bowl? Okay, I'm nothing if not obliging. I'm nice like that…
SuperGuy is getting a bit afraid that the milk glass is going to take over The Love Nest. I keep reminding him I could fill up our whole house back home too
I think this is an addiction I have no desire to conquer. Do you have an addiction like that?

Similar Posts: