See this pretty little dogwood bloom?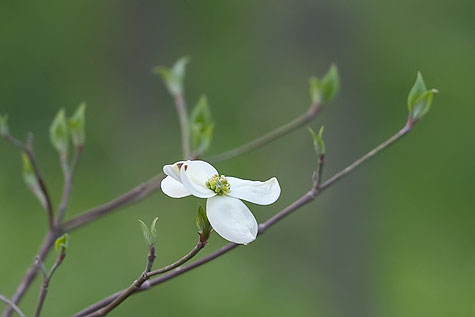 When I say that this dogwood tree is in bloom…I mean bloom…as in ONE BLOOM on the whole dang tree.
See?

Well, look closely and find the arrow. It points to the one lonely bloom on the tree. SuperGuy and I were sure the tree had died this winter because our dogwood tree in the front of the house has bloomed, the blooms have dropped off and it's fully leafed out. But this poor little guy in the woods behind the house? One bloom and the start of some leaves.
Well, at least it survived the winter!
In other news…we got SuperGuy's mom all moved. Here is a public service announcement to anyone whose parents have lived in the same house for, oh say, 30 years or more. Make them get a dumpster and pitch crap, everything that has ever passed in their doors,  a lot of their stuff before trying to move them. We got a moving van that was supposed to hold a 4 bedroom house with appliances. She lived in a two bedroom house. We couldn't fit it all on the truck…and we didn't even move the appliances. It was exhausting and emotional. The mover burly dudes that SuperGuy hired from the temporary service never showed up!!! We got The Impish One and The Photography One and a friend to drive up to Moberly and help load up the moving van…for 7 hours. I can barely move. I'm walking like an old lady. And I'm cranky. And I called my parents–who have lived in the same house for over 50 years–and told them to rent a dumpster this summer and pitch crap stuff. Or give it away. I'm not doing this again. Of course I said that when we moved SuperGuy's aunt last year…
I am sympathetic to how hard it must be to move from a home that you've lived in for years. I am. SuperGuy's mom is moving to live near his sister. That's a good thing. I'm sure it will be an adjustment for her. Of course she'll have all her things with her. Lots of things. Some things that I'm sure will never even get unpacked…
SuperGuy and I have vowed to clear out our house this summer. Get rid of stuff. Give or pitch. So if you've lived in your house forever, do your children a favor. Start pitching… If your parents have lived in the same house forever…gently suggest they get a dumpster for a week or so. Heck, my sister and I are thinking of giving my mom a week long dumpster rental for Mother's Day.

Yep, we're good daughters like that…

Similar Posts: