When will I ever learn? I should not say "I don't have anything for my blog post." Remember when SuperGuy burned up his beloved truck just so I'd have something to post about? Well, he's at it again…
So we're replacing an old rotten out retaining wall in the backyard with a rock wall. Okay, simple enough, right? Well, this big old tree root is in the way, and the tree needed to come down because if this root is gone, the tree has nothing holding it on this side…and I'm not liking a tree falling on my house. It has Dutch Elm Disease anyway, and it was doubtful it was going to be able to be saved. So. SuperGuy decides he'll take the tree out himself.
Well, with The Geeky One's help…

For some reason you have to throw a rope over a branch to take down a tree. That requires a long stick tied to a long rope…and about 2 dozen attempts to get the stick over the right branch. I didn't question…I just sat back with my beer…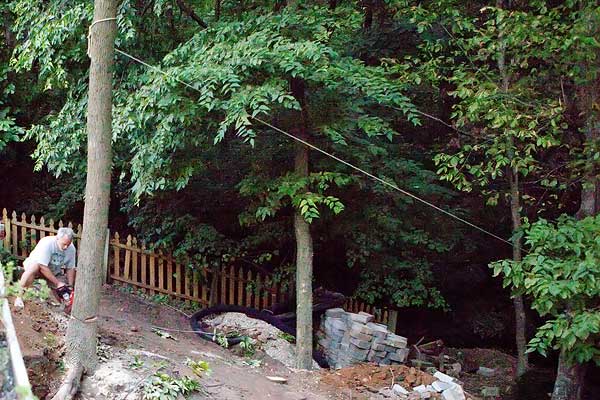 So this long rope is then tied onto the tree…and then tied to another tree way down the hill…(still not asking questions…)
I did, at this point, mention to SuperGuy, "hey, you know that The Geeky One is down at the bottom of the hill. You know, where you want the tree to drop?" He ignored me…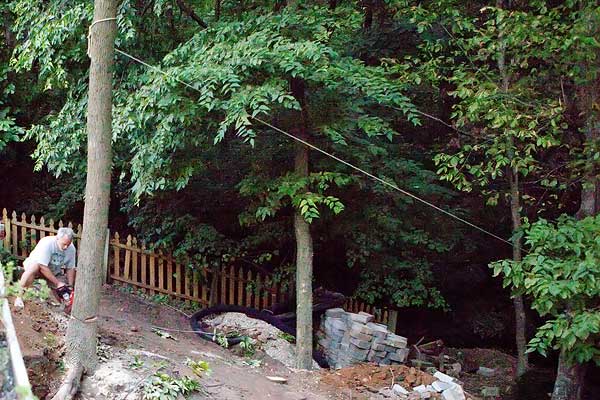 SuperGuy proceeded to sweet talk his chain saw into starting, then went to work on cutting down the tree. It's getting dark by then…
Oh, they get it cut all right…but it hangs up in the canopy of tree branches overhead. An hour, total darkness, two neighbors, various man tools and a handful of swear words later, they call it quits for the night.
The next morning I'm upstairs and hear the chain saw start back up. Oh no he's not!!! I run downstairs, grab my camera and go outside and yell at say to SuperGuy. "What the heck are you doing???"
SuperGuy says, "I'm cutting down the tree."
Kacey says, "Not without photos, you're not!!"
SuperGuy actually apologizes to me at this point!

I get my camera ready, and tell him to go ahead.
He then, in the light of day, manages to drop the tree….
Why, yes, that is right across the walkway to the gazebo…why do you ask??
Next time? We are SO hiring professionals… I still love him though.
Similar Posts: