SuperGuy and I took a fabulous vacation to the Outer Banks of North Carolina in September. Nice time of year to visit the area. Not so crowded, lower prices, and beautiful weather.
We did a lot of relaxing. A lot of it.

Beer in the Sunset in Duck, North Carolina
I was on a mission to photograph all four of the Outer Banks Lighthouses. That's from one end of the Outer Banks to the other. SuperGuy was mostly agreeable to this. Well, he knows how I am when I'm on a mission to photograph something. This was the Bodie Lighthouse. We had such beautiful weather!
Bodie Island Lighthouse Photograph for Sale
This next photograph was the staircase at Currituck Lighthouse. I stood inside and shot up the stairway. I just loved those lighthouse stairs!

Black and White photograph of the Currituck Lighthouse Stairs
Later in the week we took the ferry over to Ocracoke Island. It was so pretty leaving the Hatteras ferry port, even if we did have to wait quite a bit for the ferry…in the middle of the week…in off season. I can't imagine it on a busy weekend during the height of the season!

We drove around Ocracoke and finally found the lighthouse. I mean, you can't see if from very many places, but we finally caught a glance of it and wandered our way over so I could get my Ocracoke lighthouse photo.

Ocracoke Lighthouse and Light Keepers House – Image for Sale
We also drove along Ocracoke island and popped over the beach in a couple of spots. Here is the boardwalk to Ocracoke Beach.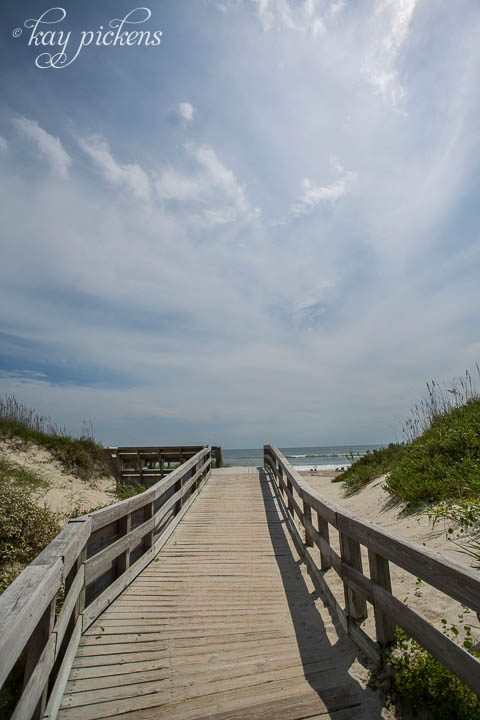 We actually stayed on Hatteras Island in Rodanthe. It was nice there, but much more crowded and busier than when we stayed in Avon. The surfers were everywhere. Like even right in front of the house we rented…and later on when the sun got hot…they moved under out house. Evidently Rodanthe is known for its waves. Not sure we'll go back to that area again. This is under the Rodanthe pier. That was another of my photography missions. I wanted an under the pier shot. I love the perspective on this one. The crashing waves. The weathered wood. The angles of the wooden supports on the pier.

Rodanthe Pier – Outer Banks Photography for sale
We had a great time. Relaxed a lot. Read a lot. Took a lot of beach walks. I'm already dreaming of the beach..

Why, yes, we did start and finish our vacation with ice cold beer 😉
My Outer Banks photographs, these and more, are availabe on my Artist Website. I have Photos of all four of the Outer Banks Lighthouse for sale there.