Yes, I'm facing the ultimate mother's dilemma. I don't want to choose either option, because neither one works.
See this cute pic of The Impish One on his first day of high school?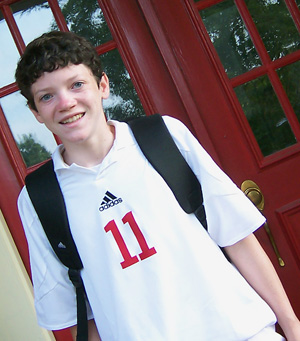 Four years ago. So young. So cute.
See The Geeky One and his Adorable Girlfriend of 5 years?
Well The Impish One graduates high school on the same day The Geeky One graduates from college.
At the same exact time.
In two different cities… :wallbash:
What's a mother to do??
To add to it, Adorable Girlfriend graduates at the same time as The Geeky One, so she won't be at his graduation.
They've grown from these cute boys and turned into fine men. Usually. 😉
I cannot bear to make this decision. I can only be at one graduation, in one city. I want to just go crawl under the covers and hide until May is over. So far I'm just avoiding the whole thing… High School graduations in our town are A. Big. Deal. Everyone always asks "where'd you go to high school." It's like a city wide thing. But graduating from college with darn fine grades in Engineering is no small feat either.
I am not going to make a decision. I'm just going to avoid it. Why, WHY did these schools do this to me?? Mother's shouldn't have to choose between sons.
So what in the world am I supposed to do?? Life is not fair sometimes. I don't want to make this decision. If you look up the word dilemma in the dictionary, you'll see this tale there as the definition.