Finally, I had time to edit the photos I took on our photo shoot in Old St. Charles. I'm really beginning to love this whole portrait photography gig. Anyway, I was very please how my photos turned out, and I want to introduce you to these fabulous photographers! In no particular order…
Kellie Penn from Across the Miles Photography in Decatur, IL. Love her denim jacket, but then I'm into all things denim. Well, and I actually went out looking for a scarf just like this one. Love the pop of purple color.
This is Jessica Hollis. She's a photographer from southern Illinois. Doesn't she just look like the epitome of an artist here? Love this shot.
Rebekah Albaugh from Studio Rebekah from Hoopeston, IL. Isn't that hat darling on her? Of course, she looked darling with or without the hat. She was the one swinging from the lamp post, remember her?

Yvonne Nieman a baby and child photographer from St. Louis. Really, doesn't that sweater look fabulous with her red hair? She scoped out this old wagon for a great location for us to use.

Here is her totally adorable daughter. Isn't she just the cutest thing? She was such a trooper during our photo shoot.
Traci I'm sorry I didn't get any shots of you! Traci Branscum is another photographer in St. Louis. She lives really near The Geeky One!
And to prove that I was really there on the photo shoot, a photo that Jessica took of me.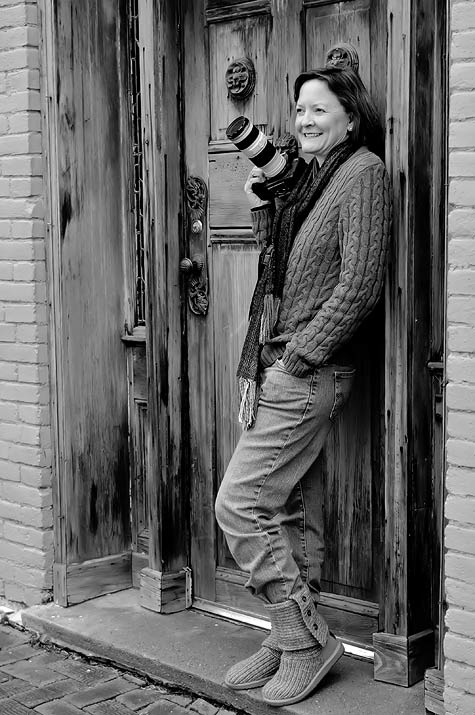 I had SUCH a wonderful time. Non stop talking about photography, cameras, lenses, accessories. Sigh. I want to do it again. Soon.