I'm writing this at 2:45 am on Monday morning… A bit over exhausted and I just couldn't sleep. I haven't even finished downloading all the photos from the cards to the computer…but I thought I'd show you just a quick few. The wedding was awesome. So glad to have another female in the family! A quick storm blew through right before the wedding and dropped the temperature from 96 to 74!! Such a relief! Perfect weather.  Few tiny raindrops during the ceremony…isn't that supposed to be lucky??
We had a great time. They had dueling pianos which were fantastic! Hit of the reception. After the reception, everyone went back to the nearby hotel where most of us were staying…and stayed up partying in the courtyard. I think SuperGuy and I finally called it quits about 3am, but a lot of the kids saw the sunrise.
First, the happy couple! Isn't her dress gorgeous?
Oh, and of course, you knew there would be one…a pointing picture!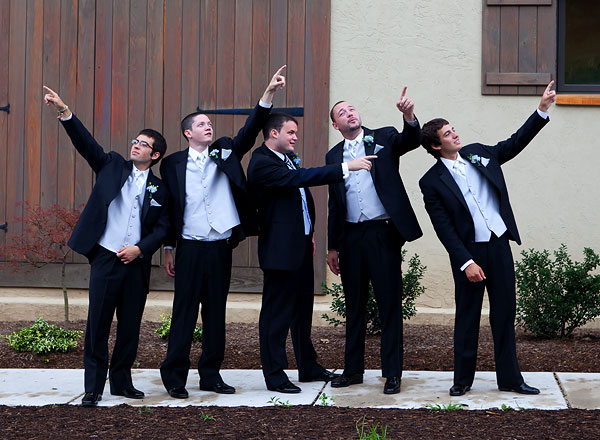 I will get more photos up this week and post some larger ones over on my photo blog.
But, for now, I think I'll try that sleep thing again.
{ 5 comments }