I've been very busy…but aren't we all?? Hard to use that as an excuse, isn't it? So, we've been busy planting the land. I call it golf cart planting…
See, we use the golf cart for more than just champagne flights around the property…we use when "we" plant too!
SuperGuy is putting in some more knockout roses for me. Finally found some more white ones and some double pink ones. We also found cone flowers on sale. Which I love. Well, I love the cone flowers and I love getting things on sale…
Had my parents over to the new house last weekend and that was fun–but we sure didn't get much work done. Here are all the photos I took while they were here. No, really. Not one photo. Too busy playiing to even take photos. My bad.
I've also been busy editing, uploading and marketing my work on my artist website on Fine Art America. I'm  beginning to get some more sales there. I've actually been sorting through photos from the last few years and editing ones that I think are marketable for wall art. It's been fun sorting through the photos. A lot of memories. I've also been learning alot about marketing art online.  Here was my most recent sale and my largest image purchased so far at 40″. SuperGuy and I are actually thinking of buying this photo really large for wall at the end of the bed in our "beach" guest room. Maybe split into thirds?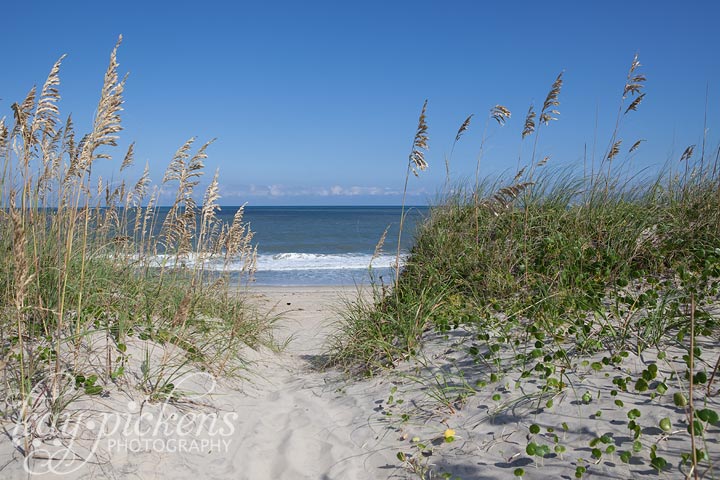 Print for Sale of To The Beach-Hatteras Island on The Outer Banks
This was a photo taken at Hatteras Island in the Outer Banks in North Carolina. In other news, we're headed back to OBX this September and I cannot wait. We're going to Hatteras again. We love the slow pace an lack of tourist in the off season on Hatteras. I'm sure I'll come back with a bazillion more OBX photos.
I've been keeping up with all of you on Facebook, Flickr, and your blogs. Hey, how is everyone liking the new Flickr? (here I am on Flickr)  I'm finally getting used to it and able to find my way around it again.
Went to post this to go live in the morning and–did you know it's JULY??? How did that happen??
Wow, I hopped around from topic to topic on this post…see you soon!