Yes, I had a quest to identify this car on Annie's property…
I love old cars. They are just so…well, old and rusty and metal-ly (is too a word.) I asked SuperGuy what this was, but he wasn't sure. He did say 1940's though. That was my start.
I did have this hint from the back of the car. An F…and and e. So I searched and searched and googled and browsed on Flickr.
I looked at bumpers and windows and chrome and fenders.
Finally! Ah, ha! I found it on Flickr! It's a 1942 Chevy Fleetline!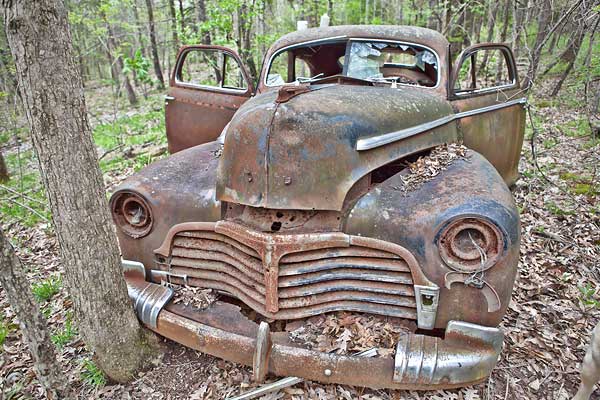 Seriously, I spend a few hours figuring this out. I just HAD to know. (no clue why, but it bugged me that I didn't know…) Anyway, it's a grand cool old car, isn't it?  (and Annie, next time we're bringing a spade or shovel or something. I'm just sure the perfect old bottle was JUST below the surface!)