I shared this pic with you last week…
My darling husband, SuperGuy….you know what he said when he saw it??? Your bangs look like when your Mom used to cut them… :mad2:
Is that nice???
Well, okay…he might be right….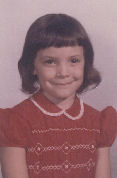 :rofl:  Am I destined to spend my whole life with crooked bangs????