Look! My chives have a flower. Okay, don't laugh, but I didn't know that chives bloomed. Are they supoposed too? Do you leave the bloom? Pluck it?
Remember when the poor little guy was buried under the snow??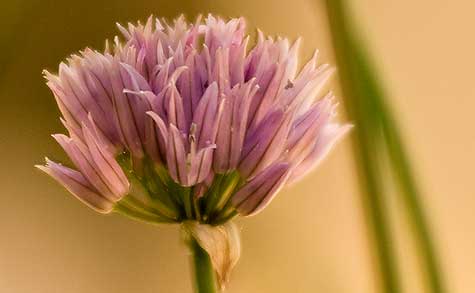 Now it's so pretty with its little bloom! I really should learn more about growing herbs since I love to cook with them. For now I'll just enjoy this pretty lavender bloom right out my kitchen door. Do you guys grow herbs? What kinds? Do you grow any in containers, 'cause that's what I'll have to do. Our backyard is all shade, but I do get sun on the deck.
Photo of the Month Reminder:
Tomorrow May 31 by midnight is the last day to submit a photo for May's Photo of the Month. May's Photo of the Month theme is motherhood. Take it and run with it. Anything that it means to you, reminds you of it. A self portrait. A pic of your mom. A photo of your kids. Your best friend's baby. Something your kids made or gave you. Get creative and take up an obscure angle of it. You soaking in the tub at the end of a long hard day. A huge pile of laundry. Use your creativity and your imagination.
Please send your links to me using the contact button in the menu bar of the website. Thanks and good luck!