No, I'm not talking about matching jewelry as in ring matches bracelet-matches earrings. I'm talking about…have you ever bought jewelry to specifically match your favorite sweater?? :crazy:
Yes, just a tad weird, but when have I ever been accused of being normal?? (This is where someone admits they've done it too…matched jewelry to some favorite piece of clothing. Go on, you'll feel better if you confess…)
So a few years ago we were in Estes Park (cute silver jewelry stores there, by the way), and I just had to have this ring to match my sweater. Okay, and the bracelet too. I was wearing it tonight, and asked SuperGuy to take a photo of it with me in my matching sweater…
Why, yes, he WAS more interested in making sure his new truck was in focus than my ring… :wallbash: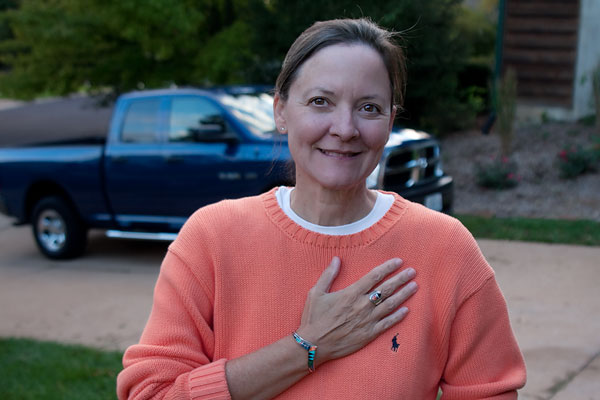 Ah, there, that's better…see how my jewelry matches my favorite sweater? (which, as a total aside…why is my favorite sweater coral colored when my favorite color is PINK??) Well, I have that problem with my tshirts too, if you remember–they are all coral colored…
But I digress….
I really should let him borrow my camera, or at least my macro, shouldn't it? Ah, well. I do love this jewelry he bought me to match my favorite sweater. :love:
But next time I might just set up the tripod when I need a pic of myself…
You won't believe what he wants October's photo of the month theme to be… more tomorrow.